Hello my precious Pweebers. Greetings from my deevalicious desk. The month of April has come and gone. How was it for you? Did April bring with it all the good things you dreamed of?
For me, it was bitter-sweet. April is my birth month so I was thankful to God for sparing my life to celebrate another birthday. At the same time, it brought with it so much pain and sorrow…I'm talking about what's currently happening in Nigeria.
Without further ado, you know how we do it guys. My monthly deevanalysis recaps major events which happened in a particular month and how I felt about it. It also helps me see plainly if the stories I chose for that month…out of the tons of stories floating the web were rich enough for royalty like you.
These were the top ten stories in April 2014, which intrigued me most. So let's go!
1. RE: WEEKLY CONTENT ON PEACE BEN WILLIAMS BLOG
I started the month by telling you guys I was going to shake things up on my blog a little bit. So I introduced an organised weekly content; categorized according to the five working days of the week. So now we have: Merry Mondays, Transformation Tuesdays, Wisdom Wednesdays, Throwback Thursdays and Fab Fridays.
I just wanted to have a little feedback on this. How do you find the articles and stories for each of these days? Which of the days is your favourite? I've had several e-mails and a few Pweebers even called in to say they like the new addition. Three articles stood out as readers favourite: two Merry Monday articles titled, "The Stress Guys Go Through To Impress The Ladies"; "Never Put A Georgia Grandma On The Witness Stand!" and a Wisdom Wednesday article titled, "It Takes Two Part 2 – The Female Culprit."
A few others also loved the Throwback Thursday stories on Lawrence Anini and "Herstory" – The Most Powerful Women In Nigeria For The Past 100 Years.
While I appreciate your calls and e-mails, I'd also welcome actual blog comments as often as possible from you. It seems you guys are shy to state your opinions in public! 🙂 Please drop your comments. It'll encourage others to do same. Please don't hesitate to give suggestions…what would you like me to add to the content and what would you like to see yanked off.
2. CIAXON AND HIS BRUSH WITH NIGERIA'S SSS
It's funny how some people enigmatically wade into our lives and how suddenly they bow out. This was the case of Yusuf Onimisi; the Twitter celebrity the world knew as, Ciaxon.
Ciaxon first got our attention on March 30, 2014; when he witnessed a live jail break by some criminals suspected to be members of the terrorist group, Boko Haram. These suspects were detained by Nigeria's State Security Service (SSS) in Abuja. Ciaxon was carrying out electrical maintenance work at the SSS premises at the time. He took pictures of the live action with his cell phone camera and tweeted them in real time; giving a blow by blow account in his captions. (See them HERE).
He was immediately picked up by authorities and detained. No one heard anything from him and we all thought he had been silently killed. This led to the popular #FreeCiaxon nationwide protest for his release on April 12. Even the foreign press were involved in the campaign for his release. After 12 days of being held incommunicado, he was finally released.
After his release he went into hiding and only surfaced to tweet a few thank yous after people complained  that his not acknowledging  those who fought for his release was very strange. After his brief response, Ciaxon relinquished his Twitter account to someone who now operates it as a parody account. (Read that HERE.)
Apart from the fact that his tweeting a gunfire exchange at real time between suspected terrorists and the military was a major security risk to Nigerian operatives, it's also possible Ciaxon's civilian eyes saw too much for his own good and was shut up by Nigerian authorities for good. So he bowed out.
3. THE FEAR OF BOKO HARAM
The month of April 2014, witnessed the worst attack of Boko Haram yet. First, on Thursday April 10; 210 people were killed in 4 Borno villages. Two days later on April 12, scores of teenagers who were travelling to write the University Matriculation Exams were killed. (Read that HERE.)
Two days later, on April 14 they masterminded the bomb blast at a crowded bus park in Nyanya which killed over 200 people. Barely 24 hours later, 234 school girls in Chibok, Borno state were abducted and taken into the Sambisa forest. Now read this show of shame…
200 people were blasted to pieces at a bus park and our politicians were pointing fingers at each other. Instead of finding the attackers, PDP said APC did it; while APC said 'right back at cha.'
President Jonathan was spotted the very next day bumping and grinding with some female politician at a rally in Kano, just about the same time our girls were being abducted.
The victims of the Nyanya bomb blast who managed to survive were left starving at various hospitals across the nation's capital. Their relatives didn't know if they had survived and which of the hospitals they were. So they couldn't bring them food and the government didn't bother.
The government lied that the military had rescued all of the captured Chibok girls. Just as the nation was rejoicing, the parents of the girls and the school's principal announced to the world that NONE OF THE GIRLS WERE YET TO BE FOUND…exposing government for the liars they are.
Government was forced to retract their statement.
These photos of President Jonathan became a classic memento for these events…
What a crazy country we live in! These are the times I'm certainly not proud to be called a Nigerian. These photos of parents crying for their girls simply broke my heart.
As I write this, the girls have been broken into batches so they can be easily moved around by their captors. They've long since left Sambisa forest. Some have been ferried to bordering countries like Chad and Cameroun. I hear some were sold as slaves to members of the Al Qaeda network, Boko Haram's parent terrorist group. Some of the girls were also married off with their captors collecting a bride price of N2,000 (11USD) for each of them.
I wish to urge us to join the campaign, #BringBackOurGirls to force government to rescue what's remaining of the girls. Their parents are demented with grief. It's my fervent prayer that help will come in the end and fast.
4. THE POOR WELFARE CONDITION OF NIGERIA'S MILITARY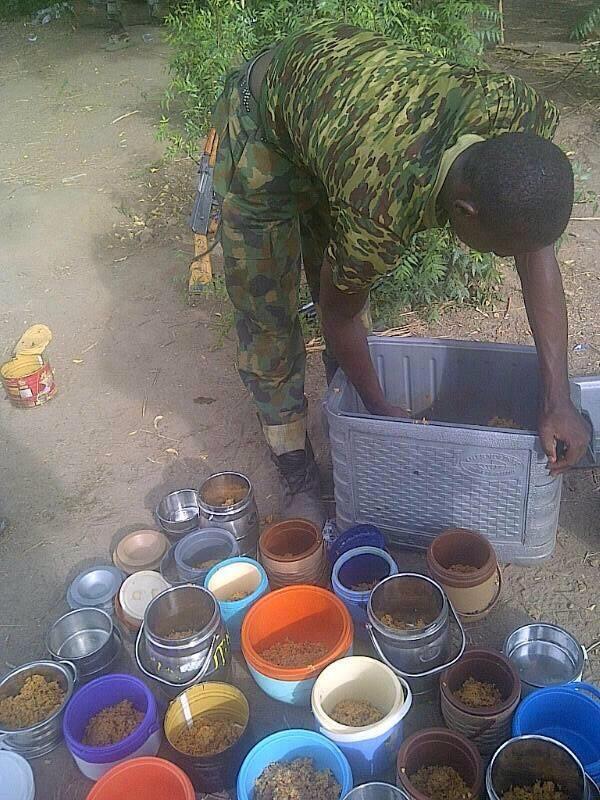 Have you wondered why Boko Haram is playing the Nigerian military like some fancy beach ball? Here's why. This is what our soldiers are eating, and I can't even see a piece of meat or fish in that flask. This miserable looking ration can't even satisfy my 2 year old son talk less of a man who's supposed to go into battle.
Whatttttttt!!! This is a national disgrace. The government are in order words sending our uniformed men on a suicide mission. And here we were bad-mouthing our army; not knowing one 'oga at the top' has swallowed the funds allocated to feeding these soldiers properly. Like Japheth Omojuwa said when he tweeted this photo:
"A full stomach is the first weapon of war. Now we know why we are losing the war."
I even saw another photo of a soldier drawing filthy water from a well to drink. I pray he doesn't contract cholera.
We have to unite to speak against these societal ills, It is wrong, wrong wrong!!!
5. THE WEDDINGS IN APRIL
We had some lovely weddings this month…
The President's daughter, Faith Sakwe.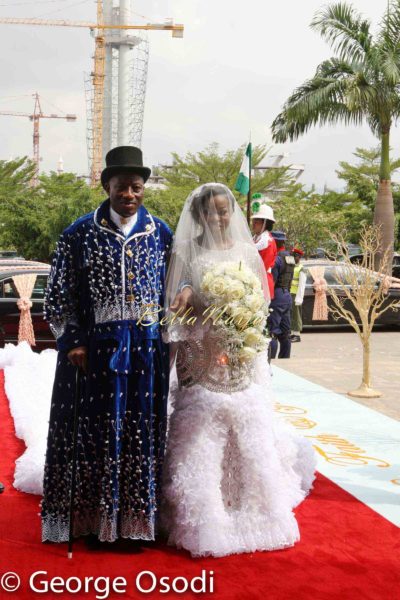 Faith Sakwe's biological father was a Bayelsa PDP chieftain who died in a car crash. Since the tragedy, the president adopted her as his daughter. She got married to her university sweetheart, Godswill Osim Edward this April.
To view the full wedding album, click HERE.
Former Vice-President, Atiku Abubakar's Son, Abba Abubakar's Wedding.
Abba Abubakar got married to his hearthrob, Mariana in Dubai in mid April.
Tiwa Savage's Dubai White Wedding to Teebillz
Tiwa Savage also got married to Teebillz in a Dubai fairy tale wedding. To view the full album, click HERE.
Sunday Oliseh's Sister's White Wedding
Ohimai Godwin Amaize, popularly known as Mr Fix Nigeria, wedded his heartthrob Tessy Oliseh, the younger sister of former Super Eagles captain, Sunday Oliseh, on April 26. Their weird-looking wedding cake got a lot of people buzzing about it on the web.
Wishing all the April newly weds a happy married life.
6. THE P-SQUARE FIGHT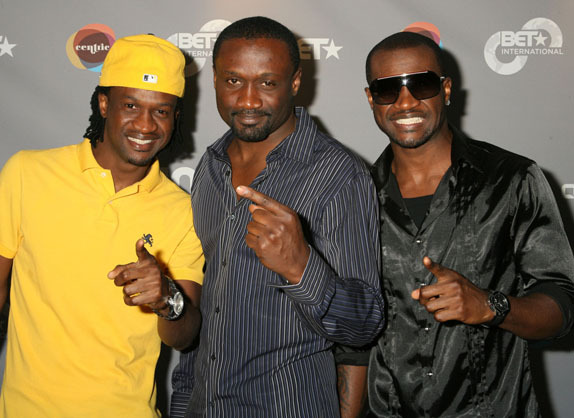 The month also saw the threatened breakup of my favourite music group, PSquare. The whole blogosphere went crazy when their elder brother and manager, Jude Okoye tweeted:
It opened a whole can of worms, as industry insiders started spilling secrets which told us all was not well with the twin music duo, Peter Okoye and Paul Okoye. (Read that story, HERE.)
After much prayers and pleading from fans, the brothers decided that family and music were more important than fighting. So they made up and tweeted their solidarity.
After that, there were rumours that stories of the breakup were just a publicity stunt. PSquare publicist, Bayo Adetu reportedly granted an interview to Icon Weekly. This is an excerpt of the interview:
Icon Weekly: Greetings, Bayo, we heard that the Okoye brothers have finally reconciled, can you give us an insight on what really happened?

Bayo Adetu: (after a long laugh) My brother, I'm telling you this as a friend, there was no fight at all. The whole thing started after Jude tweeted some days back and bloggers feasted on it and gave it several interpretations which never existed, and that was how we got here.

Icon Weekly: Are you saying there wasn't a fight at all, how then did Peter and Paul keep releasing comments through their Facebook accounts?


Bayo Adetu: My guy, I can authoritatively tell you that neither of the P-Square brothers, nor even Jude operate their Facebook accounts anymore. Whatever Facebook posted was from an impersonator, pretending to be anyone of them. P-Square is active on twitter, not on facebook, so you see, the whole thing was founded on lies.

Icon Weekly: If what you are saying is true, why did they all tweet a reconciliatory tweet this morning indicating that they have mended fences?

Bayo Adetu: There's one thing you should know, P-Square are not politicians, neither are they businessmen to be worried about what one useless blogger or the other has to say about them.In this game, bad publicity is good publicity.

When we read those funny posts, we decided to play along with the general public and what they were meant to believe. Yesterday, Thursday, April 24, 2014 was Jude Okoye's birthday and he also used the opportunity to propose to his girlfriend while we laughed at the stupidity of some Nigerian bloggers. We later decided to further play into their hands by reaching a consensus to tweet what they have termed the 'reconciliation tweet'.

However as a journalist, I am pained that trained journalists allow themselves to be remoted by Linda Ikeji, a mere blogger without any professional training to stall them from investigating serious news material like this. These days, immediately Linda posts anything on her blog, journalists just go there and copy and paste the story without any checks and balances, it is outrightly wrong, I'm really upset about this.

She called me after posting the story and I just decided to ignore her calls, because I didn't think we had anything more to say when the milk has been spilt. I have taken my time to explain to you this way because, you are a friend and did not join the bandwagon.

As for those bloggers out there, I allowed them to write whatever they like; after all, they are consuming their Internet data, not mine.
PSquare immediately sent out tweets to say they actually had a quarrel but they've made up…
The good news is they are back together. For me, it's mission achieved; case closed. I don't care what any two left-legged, pea-sized brain publicist has to say.
7. AMAKA IGWE'S DEATH
We woke up on Thursday April 29, to receive the shocking news that our Nollywood icon, Amaka Igwe had passed on in the night. If you look at the photo of Nigeria's most powerful women in the past 100 years, you'll see that I featured her (third, from bottom left.) She was my mentor, idol and role model.
I remember when I first met her. It was at the BOB-TV workshop in 2007. She was teaching us the art of storytelling and proper interpretation. She made us invent a story from scratch, inserting twists and turns right there as we discussed. I remember she was quite impressed with the way my storytelling mind worked and told me I had the trappings of a great writer.
Amaka raised the bar as far as quality and standard of Nollywood films is concerned. She shall be greatly missed. May her soul rest in peace.
8. DONALD STERLING'S RACISM RANT
On Sunday April 27, we heard L.A. Clippers owner, Donald Sterling make extremely disturbing remarks about black people in leaked audio tapes which came in two parts. His ex-girlfriend V. Stiviano who's half black and half Mexican recorded over 100 hours of their phone conversation and leaked it to the press.
Sterling was immediately investigated by the NBA, banned for life and fined $2.5million dollars. It's such a shame that we still have people like this walking the face of the earth, full of hate in their heart. In Sterling's case, part of me feels sorry for him. This is because I think he likes black people but is ashamed to admit it because of how his white folks will think and act towards him. So he developed a phobia for "broadcasting" a cordial relationship with black people. Serves him right.
I hear Oprah and some other black billionaires are looking to buy Sterling's Clippers ownership but the guy is defiant and won't sell.
9. DANI ALVES' BANANA ATTACK FROM RACIST FAN
Racism is indeed a cankerworm eating up mankind. That same Sunday when Donald Sterling's audio tapes of racist rants leaked, 30-year-old Barcelona player Dani Alves was about to take a corner kick at a match in Spain when a racist fan, threw a banana at him. Alves simply paused from the game, bent down, peeled the banana and ate it. Unknowingly, he started a viral campaign since then on social media.
Speaking after the match Alves said:
"We have suffered this in Spain for some time, you have to take it with a dose of humour. We aren't going to change things easily. If you don't give it importance, they don't achieve their objective. I don't know who it was, but thanks to whoever threw the banana, the potassium gave me the energy for the two crosses which led to a goal."
The banana thrower has been identified and banned for life from games at the El Madrigal Stadium. Watch the video…

10. OGUN APC CHIEFTAIN WHO BEAT HIS WIFE AND PULLED OUT HER HAIR
On April 24, I brought you the story of an Ogun State APC leader who beat up his wife, pulled out almost half the hair on her head; inflicting her with horrific injuries.
The man, Mr. Bayo Awosanya, also known as "Bashorun"  had disappeared since the public outcry against the brutal assault of his wife. Later on, I learnt he reportedly turned himself in at the Sagamu Police Station in Ogun State on Monday.
According to SaharaReporters, Awosanya arrived the police station with a convoy of more than fifteen cars, all occupied by some known and unknown persons…all of whom looked mean and intimidating.
The PPRO of Ogun State Command said Awosanya admitted to beating his wife and has been arrested. But we all know how it'll go down. A heavy bribe, he'll be granted bail and the case will be swept under the carpet as a domestic issue. I even read on a popular gossip blog that Awosanya said he beat up his wife because she had refused to accompany him to a party. Ewu! Goat!!
A women's right advocacy group, Women Arise, led by Joe Okei-Odumakin said her group has assembled a team of lawyers to prosecute the politician on behalf of the victim. Hmmm…let's just hope he'll be brought to justice. It's high time wife beaters were given a heavy penalty for their crimes to serve as a deterrent to other would-be wife beaters.
Women who have men like that should also start taking lessons in self-defence. It's very important. So that one day the attacker would know what it feels like to be on the receiving end.
LESSON FOR MY PWEEBERS
God created Man in his own IMAGE…red, black, yellow and white. Grow above the hate. Fight racism. Shun violence and try to do at least one good deed for each day you wake to see the sun rise. Much love to you all.
This is my deevanalysis.
HAPPY NEW MONTH.