Who says to have connections is not good? This story filled my eyes with tears…
On Thursday, a  little girl named Charlotte Bell was a guest at the White House's annual "Take Our Daughters and Sons to Work Day".
When FLOTUS, Michelle Obama called on her during a question-and-answer session in the East Room, instead of asking a question, the 10-year-old child gave the first lady a copy of her dad's resume. Charlotte said:
"My dad's been out of a job for three years and I wanted to give you his resume."
"Oh my goodness," murmured Mrs. Obama as she wrapped the little girl in a hug. Then the first lady said to the audience of children and Executive Office employees:
"Well, it's a little private, but she's doing something for her dad, right?"
Then Mrs Obama brandished the resume and told the little girl, "Got it!"
 Charlotte has seized the opportunity to get her father's resume into powerful hands. Let's see what happens.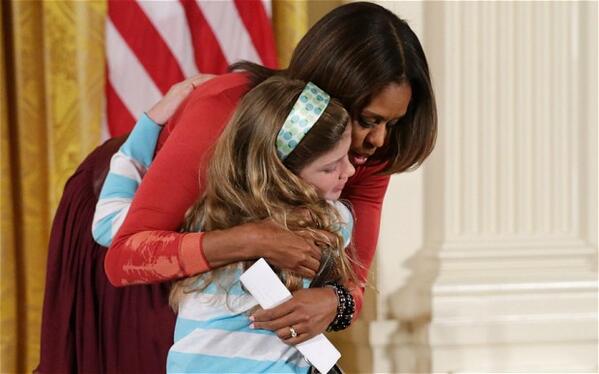 Photo Credit: Obama Files | Stamford Advocate | ABC News
Comments
comments